Has your swimming pool sprung a leak?
Underwater or under concrete we will find it!
Seek-a-Leak is a residential and commercial swimming pool leak detection and pool repair company. Based in Brisbane and servicing Northern New South Wales to Rockhampton in Queensland.
So you have a swimming pool leak, don't panic, it's surprising how often after the water loss is investigated by a Seek-a-Leak technician, the rectification turns out to be quite easy. Mind you a neglected leak can cause further problems to the swimming pool and surrounds. So give us a call and stop worrying.
Phone: 0400 569 097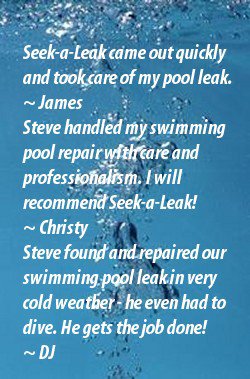 Seek-a-Leak is a professional swimming pool leak location and repair business, operated by Steve Hutchinson, Proprietor and Senior Technician with over 30 years domestic and commercial swimming pool experience.
Seek-a-Leak uses a number of methods to locate leaks in swimming pools, including the use of specialised tracking dyes, electronic water loss measuring equipment, underwater cameras, pressurised plumbing techniques and sonic devices for locating leaks underground. This equipment is used in different ways depending on the type of leak.
An important part of leak investigation is interviewing pool operators / owner to seek information about the suspected problems, the pool operation, any water losses, including when and where they occurred, whether the loss occurred when the filtration system was running, for example. The answers to these questions provide a focus to the type of detection required.
Learn more about our swimming pool leak detection and swimming pool repair services in our FAQs, and view pictures in our photo gallery of our swimming pool leak detection and repair expertise in action!
When you contact us, we'll ask you some questions about your swimming pool leak / swimming pool repair so we can better serve you.
Not sure your swimming pool even has a leak?
Learn about the Swimming Pool Bucket Test to help you determine if your pool has a leak or not.
Answers to the following questions can help us diagnose your swimming pool leak...
How long has your pool had a leak?
How much water is your pool losing in a 24-hour period?
Does your pool lose more water when the pump is on?
Does the water in your pool 'level off' at some point?
Is the swimming pool clean? Your technician may have to swim to find a small hole.
Is the swimming pool full to an operational level?
We are ready to serve you! Please call us on 0400 569 097 or email us.